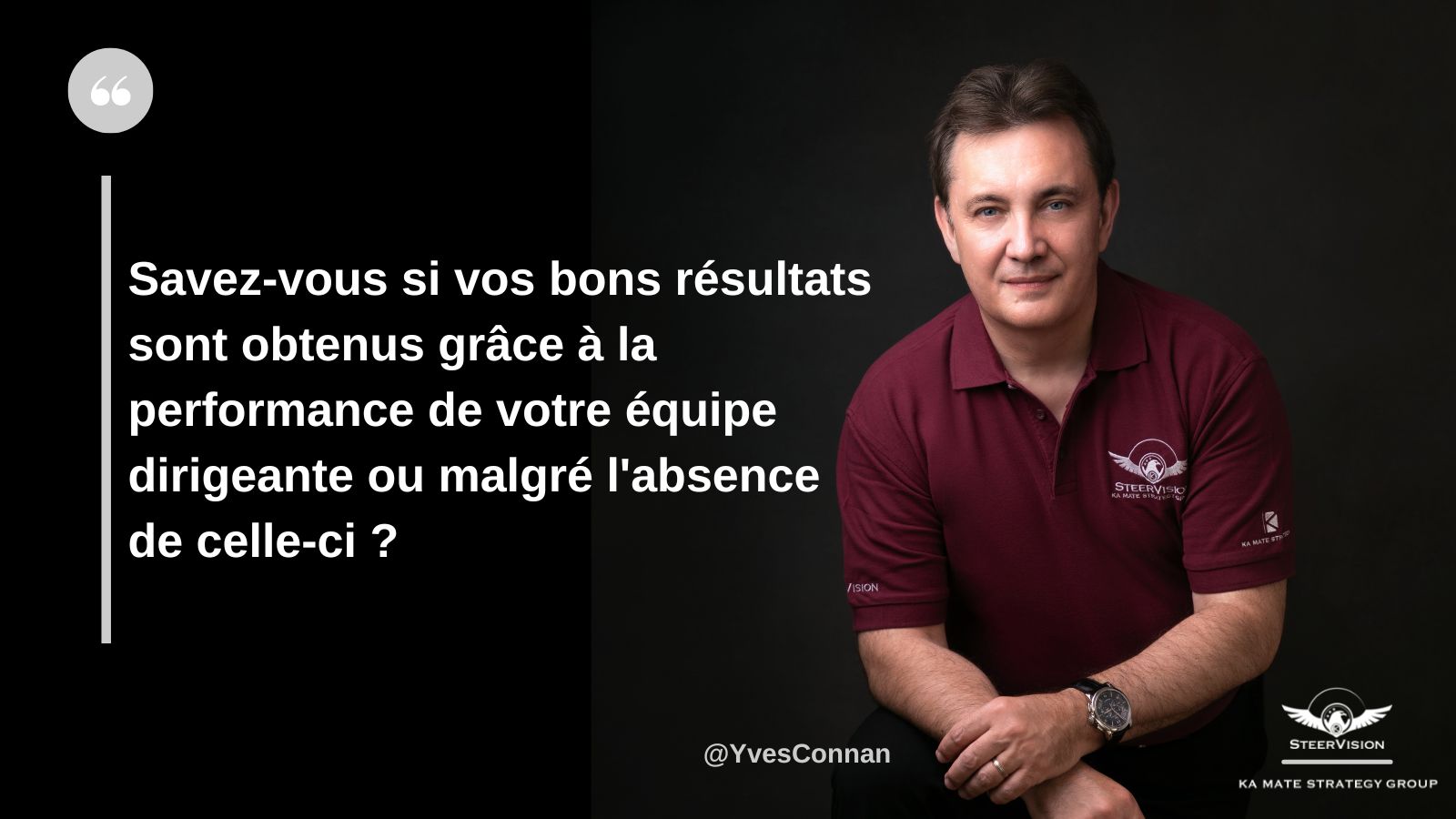 Avoir une équipe dirigeante performante est essentiel pour l'atteinte des résultats escomptés. Mais savez-vous si vos bons résultats sont obtenus grâce à la performance de votre équipe dirigeante ou malgré l'absence de celle-ci ?
Depuis plus de 20 ans nos chemins se croisent régulièrement avec @Rory Underwood et je l'ai souvent entendu poser cette question :
"When business leaders tell me they are successful and that their companies are high performing because they are achieving and/or exceeding their targets, I ask them….. 'How do you know that your success is because of the people in your business working together or in spite of it?'
Not one of them has been able to answer that question for me." – Rory Underwood MBE
Une question à laquelle il semble difficile de répondre mais il existe certains indicateurs clés qui peuvent aider les équipes dirigeantes à déterminer leur niveau de performance et ce qu'elles doivent faire pour l'améliorer. Il est important d'identifier les forces et faiblesses des leaders, car cela permettra aux entreprises d'améliorer leur productivité et leur efficacité globale.
Le premier indicateur dont vous devriez tenir compte est la motivation de l'équipe dirigeante. Les membres d'une équipe motivée sont plus susceptibles d'être engagés, impliqués et prêts à prendre des mesures pour atteindre les objectifs fixés par l'entreprise.
Une bonne communication interne est un autre point clé que toute organisation devrait considérer comme facteur clé de succès : elle permet aux membres de partager des informations sur les projets en cours, surtout ceux qui concernent directement ou indirectement la direction. La transparence encouragée par une bonne communication contribue grandement au bien-être général des employés ainsi qu'à un meilleur leadership au sein de l'organisation.
Enfin, veillez toujours à revoir régulièrement vos règles et procédures afin que votre organisation puisse maintenir sa cohérence opérationnelle en fonctionnement continu, tant sur le plan stratégique que tactique – sans quoi vous risquez une stagnation voire pire encore !
En conclusion, savoir si vos bons résultats proviennent effectivement d'une équipe dirigeante performante ne relève pas seulement du hasard : il y a certains indicateurs importants qui peuvent être analysés pour déterminer si cette supposition est justifiée ou non ; notamment les liens suivants : motivation collective, communication interne transparente et cohérences opératoires.
Quoi qu'il en soit, seule la performance de l'équipe dirigeante amènera des résultats durables. Notre expérience de plus de vingt années d'accompagnement des équipes dirigeantes nous montre qu'un dirigeant ayant des résultats exceptionnels cette année peut, dans 2, 3 ou 5 ans, être remercié par son conseil d'administration… lorsque le marché devient moins favorable. ?